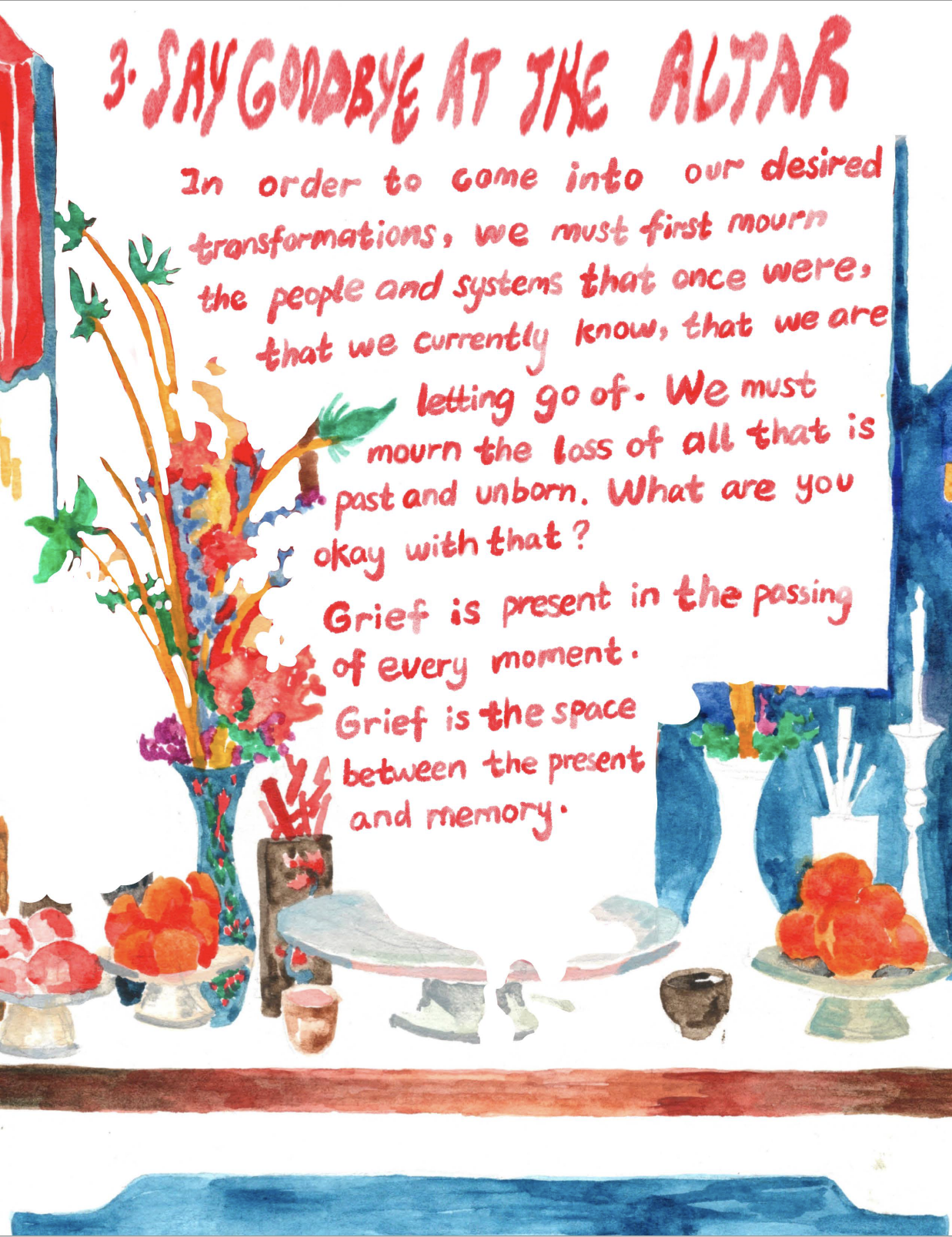 Altar of Grief
is a zine &
70-minute soundtrack
of creative provocations and rituals surrounding grief.
---
Zi
(@hotbirdbath) is a trans, queer Han/Hakka artist who work with tattoo, performance and sculpture. Their practice deals with marginalized body (trans body, body of color) and its performance in hostile social environment. Zi hopes, through their personal object making and performance as well as communal, collaborative projects, decolonization and re-indigenization of our body and mind can be made possible.
Hi I'm
Nicki
(she/her). Music is my homing signal, reaching out to old souls and those ready to look within. This is my way of finding soulmates. I'm a violist that uses improvisation to embrace instability and search for forgotten experiences and hidden energy. I invite the audience to join me in surrendering to the process of peeling back armour to reveal raw emotions without fear of judgement or imperfection.
jas lin
(they/them) is a performance artist and movement facilitator born, raised, and currently based on Tongva Land (also known as Los Angeles). Beginning their dance education at the age of two with ballet, lin was quickly introduced into the complexities of inhabiting a racialized and gendered body while practicing the performing arts; of being both the creator and communicator of signifiers while having significations structurally and historically projected onto oneself. As such, their practice has become a life-long process of un-learning and, in turn, un-teaching oppressive, Othering, and superficial ways of moving, being, sensing, and knowing. every work is a ceremony, a spell, a staged exorcism for purging choreographies of the learned body and shutting down internal and external surveillance cameras that suggest there is a Proper way to move through the world. lin's choreographies, films, workshops, and photos have been shared and featured at distinguished cultural institutions and spaces around the world, including the British Museum, REDCAT Theater, IA&A at Hillyer, Floating Projects Hong Kong, Carnation Contemporary, Kassel Dokfest, MoCA Shanghai, and MADATAC.
---
︎